FAQ's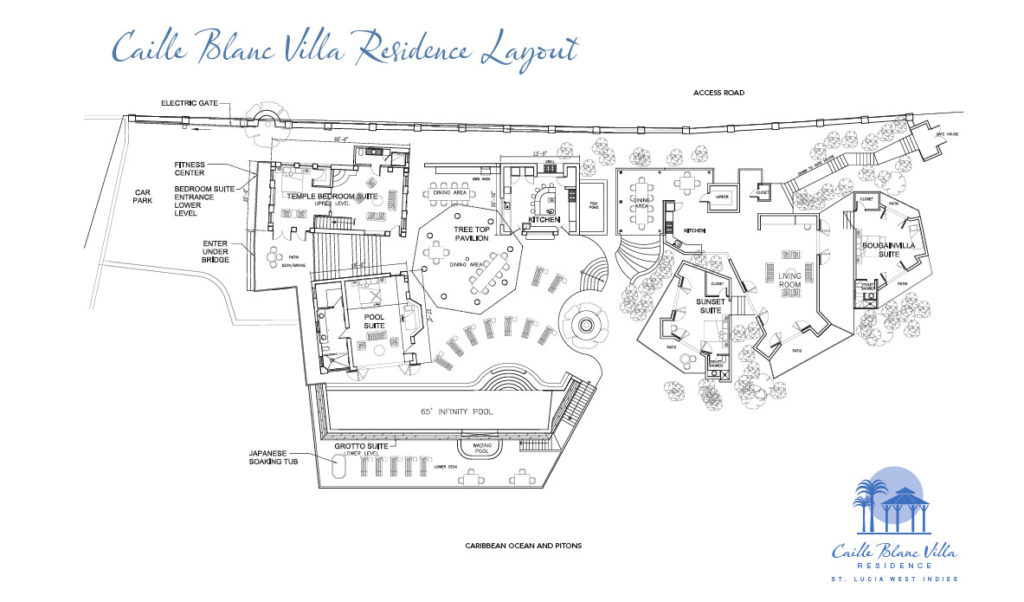 FAQ's
This page will help you with the little questions we get asked all the time.  Caille Blanc Villa & Hotel was originally a private home that has been converted to a luxury hotel.  You can rent one suite or all six suites for an exclusive private experience (which we consider to be a Villa Rental)  – the choice is yours.
Airport Transfers: 
We offer transport from both airports and ports.  All transfers should be made at least 24 hours in advance through our concierge App Edgar .
App: 
Yes, there's an app for that!  Caille Blanc Villa & Hotel uses Edgar Smart Concierge App to help our guests book transportation, meals, excursions and more.  Upon booking you will get a link to download our free app and code to enter which will give you access to our suggested itineraries and more!  Think of Edgar as another staff member to help you with your stay!
Arrival:
Government Requirements:  Due to specific requirements, please review our Covid-19 Update page to make sure you have all the specfics on entry. 
Passports:  St. Lucia requires that all visitors have passports that are valid for at least six months after arriving on the island.  Certain visitors from countries other than the US, Canada, UK or EU may be required to have a visa to enter.  Please click this link to check this list to see if you're required to have a visa.
Customs & Immigration: Enroute to your arrival at the airport in St. Lucia, your airline will supply a St. Lucia Declaration Form for Immigration and Customs. The form asks where you are staying on the island.  Enter "Caille Blanc Villa, Soufriere".  The form along with your valid passport is stamped by the Immigration agent. Please be sure to retain the portion of the Declaration form that is returned to you as you will need it when you exit the country.
Duty: You will most likely not have anything to declare upon entry. If you wish, St. Lucia allows each adult to bring two bottles of alcoholic beverages duty free into the country. To ensure that you have your favorite spirits during your holiday we suggest that you purchase at the departing airport prior to your flight.
Beach:
The Anse Chastnet or Anse Mamin beach is a five to seven minute walk downhill and slightly longer back.  For suite rentals we offer a shuttle to and from the beach once daily.  Sign up is required through our App Edgar 24 hours in advance.
Breakfast:
Our signature breakfast is included with your stay and generally begins at 9:00am  The breakfast consists of fresh fruit and juices, egg and meat dishes, yogurt, specialty items, baked goods, coffee and and water. Please order your breakfast by 9pm the night before through our App Edgar.  Please let us know if you have any dietary restrictions and we are happy to accommodate you.  If you are leaving for an early excursion please ask our staff to prepare you a cold breakfast of hard boiled eggs and fruit to place in your suite refrigerator.
Business Center: 
We offer use of a laptop and printer should you need these items in paradise.  Please check with the staff.
Cancellation Policies:
Please CLICK HERE for our cancellation policies.
Cash Free:
Caille Blanc Villa & Hotel is a cash-free property.  That means that any food, drinks, excursions, transportation, spa treatments or tips are added directly to your bill which is only payable with a credit card upon completion of your stay.
Check-In:
Check In begins at 1 pm. Upon check-in you will be greeted by our gracious staff.  You may arrive earlier with prior approval to drop off your bags but we ask that you wait to enter your suite until at least 1pm to give our staff time to ensure its cleanliness.  Prior to arrival will be asked to re-confirm your credit card information for additional charges.  You will be given a key to your suite.  If lost or not returned a small fee will be charged to your bill.
Check Out:
Check Out is promptly at 11am.  At this time, please review your outstanding balance for additional charges in our App Edgar which will be charged to your credit card on file.  Late check out may only be accommodated with prior approval and depending of the extent of lateness may incur an additional fee.
Concierge Services: 
We provide complete on island concierge services during your stay on island from restaurant reservations, to boat excursions, from car rentals to spa treatments.  Once your reservation is booked you will receive a link to suggested excursions as well as an invitation to our personal concierge app Edgar.  You can book all your transportation and all available excursions through our App Edgar.
Deposit:
All reservations require a 50% deposit on booking.  Suite balance is due 10 days in advance of arrival, while complete Villa balances are due 60 days in advance of arrival.  Please note non-refundable reservations require payment in full on booking.
Dinner on arrival:
If you would like dinner on your first night at Caille Blanc Villa & Hotel (highly recommended) please pre-order through our App Edgar so that we can ensure your selection.
Driving/Transportation:
Unless you're accustomed to driving on the European side of the road and feel comfortable driving along a cliff, we do not recommend driving in St. Lucia.  Our drivers, James and his son Nicolai have been working with Caille Blanc Villa & Hotel for over 20 years and are expertly skilled on navigating the roads and handling excursions anywhere in St. Lucia.  
Drones:
Drones are generally prohibited for safety reasons.
Electrical/Wi-Fi:
All suites have both 220V England/European and US 110 outlets.  Each suite and the common areas of Caille Blanc Villa & Hotel also have their own Wi-Fi hub.  There is no Wi-Fi password needed.
Evening Dress Code:
Generally speaking, there is no place on our beautiful side of the island that requires a jacket for men or dressy clothes for women. Many an evening has been spent at Caille Blanc Villa & Hotel in what we call "tropical cool" evening wear. Even at the Five Star Jade Mountain Hotel, a short distance away, a nice shirt and slacks for men and smart/casual and flat shoes for women are fine (high heels are not recommended). A very light shawl for a woman could be appropriate for a cool night. Do not bring any expensive jewelry or vintage watches. Nice costume jewelry works perfectly.
Gift Shop:
There are a limited number of items made available for purchase including our logo white towels, logo beach bags, logo sunglasses and jewelry.  Please ask our staff for assistance or purchase through our App Edgar.
Meal Plan:
If you purchased our meal plan your visit starts with lunch on your day of arrival and ends with breakfast on your day of departure.  Along with our signature breakfast you are entitled to lunch and our complete dinner daily along with unlimited bottled water.  You can have lunch at Caille Blanc Villa & Hotel or take a box lunch on your excursion (please arrange 24 hours in advance). The complete dinner consists of one alcoholic beverage, soup, salad, entree, dessert.  Please order your dinner selection through our App Edgar.  We do not offer an inclusive package which includes drinks.  Our meal  plan is the best value on the island and as such there are no substitutions or refunds given for any unused portion of the meal plan.
Outside Guests:
As we are a small resort and we wish to ensure each guests privacy, other than when you are renting the entire Villa, outside guests may visit only for dinner and only with prior arrangement.  We do not allow day visitors or non-affiliated guests for dinner or meals.
Parking:
If you choose to drive, we have a secured parking area available at no fee.
Security: 
We pride ourselves in ensuring the best experience for our guests.  Caille Blanc Villa & Hotel is staffed and monitored 24 hours a day. Albert our evening security guard has been with us for over 20+ years and in addition to playing a mean game of "farkel" (he's happy to teach you this island game); he knows every square inch of our property and is a valuable resource.
Spa Services:
Our main masseuse, is Maura, who has been giving us wonderful Swedish massage for twenty years. With a day's notice through our App Edgar, she will come to Caille Blanc Villa & Hotel to give you a massage, manicure or pedicure in your suite.
Staff:
We want each guest to feel at home  – each of our staff members wear pins with their name and their services.  Please feel free to reach out to any of our staff members at any time during your stay with questions or requests.  Blossom: Hotel Manager; Marilyn: Hotel and Banquet Manager; Francesca: Food Manager; Genefer and Peter: Food Services; Vilma and Paulea: Housekeeping; Albert and Neil: Security; Ninja and Peter:  Groundsmen and Maintenance
Suites:
Air-conditioning:  All of our suites have air-conditioning.  You may not need the AC since the fan located above the four poster bed should keep you quite cool at night; if you do, kindly shut off the AC unit when leaving the room. Since we're in a delicate island environment, we want to refrain from overload on the electric equipment. Please leave the remote control for the AC in the room when you leave.  We recommend that you use the safari style nets around the bed when you sleep.
Bathrooms: Our suite bathrooms have blow dryers, shampoo, soap, conditioner and lotion.  Please bring your own personal toiletries and sunscreen.  Bug spray is also recommended.
Closets/Safe: Every suite has its own walk-in closet and electronic safe for your belongings and valuables. We are not responsible for your valuables and therefore encourage the use of the safes in each room.  Kindly lock the closet, safe and room when you leave.
Refrigerators:  In your room (sometimes the closet) this small refrigerator holds bottled water or your personal beverages.
TV's:  Each suite has a flat screen television which is connected to Netflix.
Water Conservation:  We ask that guests help us in saving our planet by saving water a particularly valuable resource in the tropical climate.  Please reuse bathroom towels when possible.  Towels left on the floor in the bathroom will be washed and replaced.
Tipping: 
We love our staff and hope you will too!  All tips are pooled because its the little things you may not know about that goes on behind the scenes that are just as important as who brought you that great drink.  Cash tipping is prohibited but tipping is encouraged at the end of your stay to add to the bill payable by credit card simply note the amount in our App Edgar.
Towels:
White logo towels are provided for use by our 65′ infinity pool and are in a basket up the stairs.  If you require towels for the beach or an excursion there is a basket of towels at the exit of Caille Blanc Villa & Hotel.  Please do not take the white towels off property.  Please remember to return to the basket all towels taken on excursions or to the beach.
We are here to help you.  Please do not hesitate to contact us or any of our staff members during your stay.