COVID UPDATE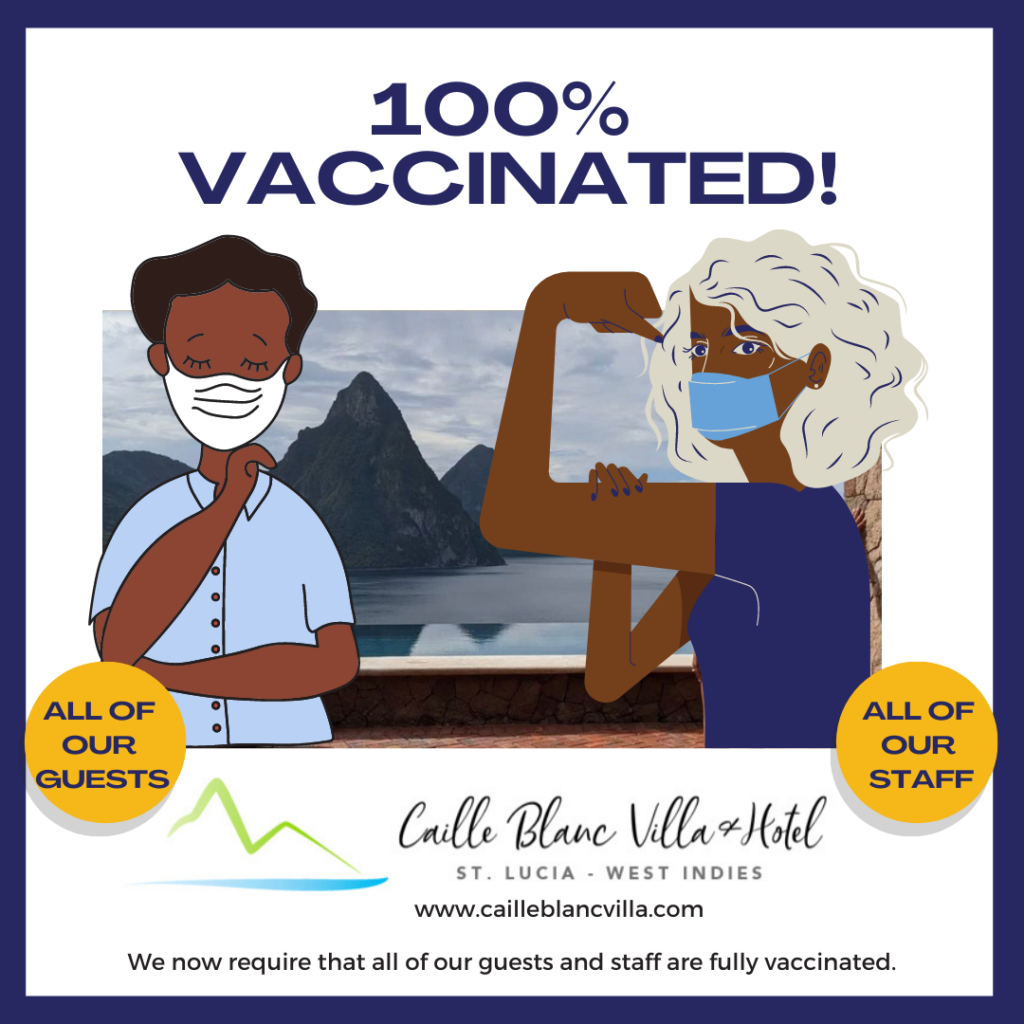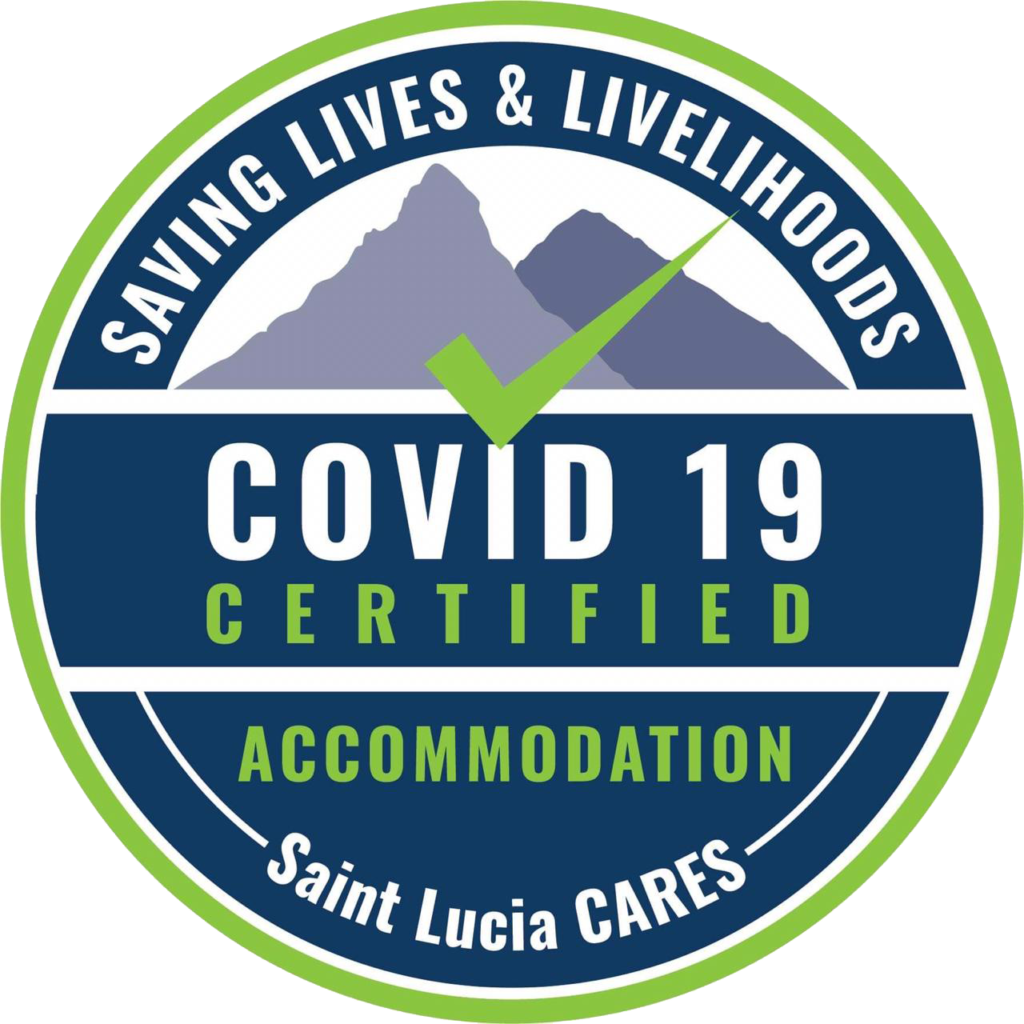 WE CAN ARRANGE COVID TESTS – GUESTS STAYING 6 NIGHTS OR MORE WILL RECEIVE FREE ANTIGEN TEST FOR DEPARTURE AT THE HOTEL – see below for more requirements and options
Updated April 1, 2022 – Being open since August 2020 during this dramatic time we've learned a few things. After passing the rigorous licensing and certification process of both the Ministry of Health and Ministry of Tourism in St. Lucia we were allowed to welcome guests from all over the world.  

Many guests have successfully and safely graced our suites and our beautiful hotel; however, we understand that during these challenging times, your travel and vacation plans may not be imminent or stress free. We're here to help you not only decide which dates and which suites you are best suited for but to walk you through government forms and requirements. We've also undertaken some new protocols to ensure that Caille Blanc Villa & Hotel lives up to YOUR standards of luxury, privacy and safety which includes:

1 – Less People = More Privacy: reducing suite availability limits the number of guests on property – giving even more privacy and safety to your stay.
2 – Cleanliness Is Key: Our staff has all undergone additional training on distancing, cleaning and serving protocols for the current environment. We've purchased new equipment and instituted additional procedures to ensure you and our staff remain healthy and safe.
3 – No Worry: As standards and requirements change so do we. We live up to and maintain all government regulations – including helping you obtain Covid tests for your flights home – we want you to have a stress free enjoyable vacation.

4 – Safety First: We require all staff and all guests to be fully vaccinated on arrival.

Our wish is for you and your family to remain healthy and safe and we look forward to seeing you on the beautiful island of St. Lucia at Caille Blanc Villa & Hotel.
In order to ensure the health and safety of guests, staff and locals St. Lucia has enacted strict requirements as to movement on the island.
We are closely monitoring the situation locally and abroad and taking action where necessary. We are following the health and safety guidelines of the St. Lucian government to protect our guests and workers, specifically increasing our sanitizing of all rooms, bathrooms, all work, public areas and requiring the use of PPE.

Like everyone else during this pandemic, the economy has suffered and we are hopeful that the global situation will improve enough to assure that you visit soon. Many of you know we are a family at Caille Blanc Villa & Hotel and therefore, we have taken steps so that this period of time has not adversely impacted any of our team members financially or health wise. If you need to cancel please review our cancellation policy page for options.
ARRIVING IN ST. LUCIA
Pre-Travel approval or the pre-travel authorization document is no longer required for travel and entry.
Fully vaccinated travelers are not required to take any COVID test for entry to St. Lucia. More details can be found at: www.stlucia.org/covid-19. 
Download, print and travel with a completed copy of the Health Screening Form
Travelers are required to show the following documents at check in(airline/carrier)and on arrival, and these should be easily retrievable at all times. Printed documents are preferred however electronic copies are acceptable.• Vaccine proof • Saint Lucia Health Screening Form (required on arrival)
For questions related to entry to St. Lucia contact tic@stlucia.org
CAILLE BLANC VILLA & HOTEL REQUIREMENTS:
Each guest must complete Caille Blanc Villa & Hotel's Arrival Agreement: https://bit.ly/cbvh_arrival_agreement; along with a copy of your passport and vaccine confirmations. 
Our nurse will take your temperature once a day and should it exceed 100.4 or should you or your companion show any signs of Covid you will be moved to quarantine – this includes any positive antigen or PCR test before departure.  Any stay required by you or your travel companions condition past your original intended stay will be billed to your credit card on file at 75% of the prior rate plus the cost of all meals.  During this time, you will not be allowed to leave the suite and will be attended to by our house physician and/or nurse. 
RETURNING TO THE US: As of 12/1/2021
For up to date information check here: International Travel (state.gov)
At Caille Blanc Villa & Hotel our goal is to ensure that you have a luxurious and relaxing vacation. That is why we wanted to advise you that effective in November 2021; the US government has updated the entry requirements for returning US citizens and permanent residents with respect to Covid testing.
All vaccinated guests will need to show proof of vaccination and proof of a negative Covid test taken within 24 hours of departure to the US to your airline. (as of 11/1/2021 Caille Blanc Villa & Hotel does not take reservations from unvaccinated guests).
Caille Blanc Villa & Hotel offers Covid testing on site by either our nurse or doctor. The test costs $100 (plus taxes) per person and should be ordered through our app Edgar. Guest with stays of six nights or more are free.
Please note that there are accepted alternatives to our on site testing which you can purchase prior to arrival and self administer to receive results in 24 hours. Below are two accepted solutions click link for more details.
1. For all airlines: Optum
2. For America Airlines only: Qured

RETURNING TO OTHER COUNTRIES – Please check with your airlines.
As always our team awaits you with open arms…..stay well until we see you again. – All your friends at Caille Blanc Villa & Hotel